How To Get Your Child an Athletic Scholarship
As a former division one athlete myself and if you're a parent reading this or an athlete, getting a college scholarship can be a very tough and kind of frustrating experience.
You haven't really gone through this process and you're not really sure what you should be doing or not be doing.
Begin With End Game In Mind & Be Realistic
You need to begin with the end in mind, where you potentially want to get a college scholarship from, and what sport you want to play.
From here, you need to backtrack and see where you stack up compared to people that have gotten college scholarships there, and where you fit in that mold.
Like, for instance, looking at your athlete physically, but also statistically, and the competition that they played, right?
You have to take out all the biases that you may have as a parent.
As a parent, we think our kids are the best, obviously, but we need to be honest and realistic with ourselves, of like, "Hey, can my athlete play in division one? Can my athlete play D2? Can my athlete get a scholarship at NAIA?"
So, I think that's the first key is beginning with the end in mind and being realistic of where your athlete stacks and ranks up.
Filling In The Gaps
The second thing to do I would say then is filling in the gaps, right?
So, if you have an athlete that's really athletic, he's maybe a freshman or sophomore and he wants to get a scholarship to play at Florida State, but he's skin and bones and he's got no muscle on him, you want to then backtrack and say,
"Hey, you know, in order for Johnny to get an, an athletic scholarship to play football at Florida State he's gonna have to put some muscle mass on him and size, and so I need to do whatever I can in that stage to help improve his physical development, speed, power, and agility."
That's the other missing piece I would say with these athletes is that it's not all genetic per se, in that sports performance training can really help improve your athlete's chances by covering, working on their weaknesses, and building upon their strengths.
Then a coach can do those types of things to really take their game to the next level. Physically and also from a performance standpoint.
Be Proactive
The third thing I would say is to be proactive when you're looking to get a college scholarship, right?
So, there are so many high school athletes and there's only so many colleges and coaches, and you need to put yourself out there and come up with a plan, so whether that be emailing coaches, sending out your tape and film, or telling your athletic director and coach to send out your tape.
Any mutual friends or connections that you may have to introduce you to these coaches.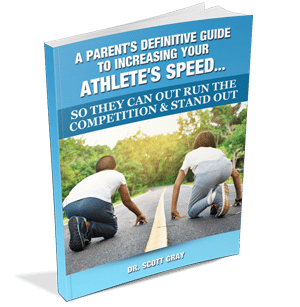 GET YOUR FREE REPORT
Free Special Report Reveals…. How to Increase Your Athlete's Speed & Agility
Participate In College Camps
I would say most importantly of all would be to do a camp at that school facility.
Most of these schools have camps where people and athletes can come in on-campus, for different things, or for the weekend, and that's really your time there to set yourself apart and show that you've got it.
And so, basically like a live tryout in front of these coaches and doing that is going to make a big influence for you to potentially getting that college scholarship.
I would recommend these three things….
Begin with the end in mind of like, where you want your athlete to get a college scholarship and for what sport.
Be realistic about the expectations. If your son is five foot five, 170 pounds soaking wet, the chances of him getting a college scholarship for football at a division one school may be slim, right?
Not saying it's impossible, but your chances statistically aren't there.
Now, conversely, if you looked at like, D2, yeah, there, maybe there are quite a few athletes that are five foot five, maybe the running back or kicker you could potentially get a college scholarship.
So, being realistic, because then you're going to narrow down the schools that are going to be interested in you and then you can also then proceed and have a plan in place.
The second thing I would recommend is to do sports performance training, right?
So, that's gonna fill in the gap of where you want to play, so if you're six foot three, but 150 pounds soaking wet, you might be raw, but you may not get a college scholarship because you're just not physically gifted just yet, and you might need to add muscle mass, or work on your speed, power, and explosion, and these are all skills that are learnable and can be improved on.
That really can open up some doors for you, as far as getting a college scholarship.
And then lastly, I would say create a plan, so, have a list of schools that you want to target, sending out your film to them, asking your coaches, but then also attending camps, just so you can get your information out in front of these coaches.
So, getting a college scholarship isn't easy, but, it can be done, and if you do apply the steps that we had laid out in this blog, we have no doubt that your athlete will have a higher chance of getting a college scholarship.
I Want My Athlete to Succeed. Where Do I Get Started?
Getting started is quick and easy…but the rewards are endless!
Our team of NSCA certified sports performance trainers at our Fort Myers Athletic Performance facility will help you get started.
Sports performance training is one of the best gifts you can give your eager athlete.
Picture how excited your athlete is when they share sports goals with you & obtain that college scholarship to their dream school!
Now…let those dreams become reality!
Here's How We Can Work Together
Choose Which Option Works Best For You…
Option 1
Free Phone Consultation
If you're not quite ready to book an appointment yet, you might have some questions that you would like answered first. We would be happy to chat with you so we can be 100% sure that we can help you… just click the button below to request to speak to us on the phone!
Option 2
Inquire About Cost
We understand that some people want to find out a little more about the cost and appointment availability of our personal training and sports performance training programs before booking an appointment. If you want to know about our availability, then please just click the button below and complete the simple form.
Option 3
Free In-Person Consultation
We realize some people may be unsure if Back In Motion Physical Therapy & Performance is right for them. Are you wondering if it'll work or if we can help with your problem? If that sounds like you and you'd like to sit down with one of our team members to see for yourself how we can help you, just fill out the simple form below so we can answer your questions.