What is Pelvic Floor Physical Therapy or Pelvic Health?
Our pelvic health or pelvic floor therapy program is an advanced and innovative treatment approach designed to address pelvic floor and pelvic girdle issues. Through various techniques, this therapy enhances the strength, mobility, and overall functionality of the pelvic floor, hip, core, and reproductive systems. By targeting the root causes of these problems, pelvic floor therapy offers effective solutions and empowers individuals to overcome their pelvic health challenges.
Individuals who embark on a journey of pelvic floor physical therapy discover natural methods to enhance the health of their pelvic floor muscles, core strength, and the art of proper breathing.
This transformation empowers both men and women to embrace pain-free intimacy, bid farewell to pelvic discomfort, prevent urinary and bowel incontinence, and gain control over a spectrum of pelvic health issues.
The Signs and Symptoms of Pelvic Floor Dysfunction:
Abdominal pain or Weakness of Your Core Muscles

Pain with Sex or Intercourse

Pre or Post-Natal Pain or Prevention

Lower Back Pain That Isn't Getting Better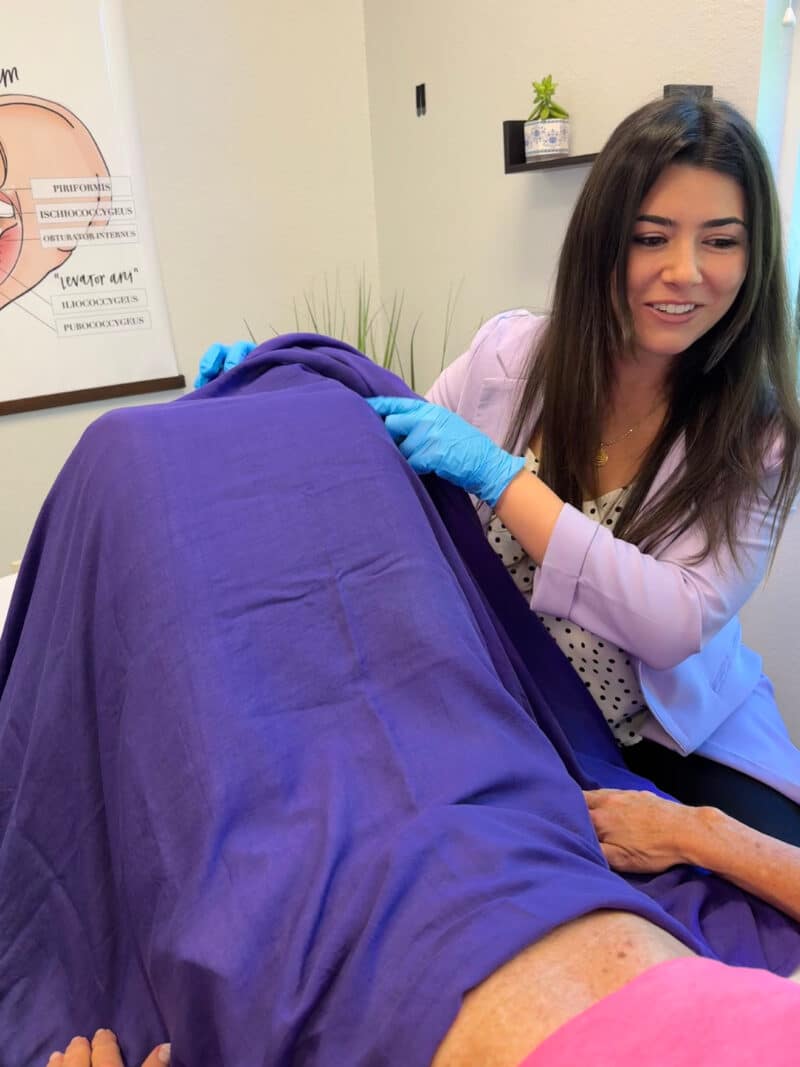 Meet Your Pelvic Health  Therapists
Our Pelvic Muscle Therapy Treatment Success Stories
My gynecologist recommended Back in Motion for Physical Therapy on my Pelvis. | wanted the first appointment available, and that led me to the Cape Coral Office, even though | live in Ft. Myers. what a stroke of luck! Going to see Dr. Devyn Kangas, two to three times a weeks for this past month has improved my condition tremendously. Dr. Devyn is always on-time, a great listener, empatetic, pro-fessional, very caring, and fun!!! | would not hesitate to give this office my highest recommendation.
I was told to take medication for my incontinence for the rest of my life. I found Dr. Vanessa and I'm now glad to say that I am no longer having incontinence.


Here's How We Can Help Get to the Root Cause With Our Pelvic Health Rehabilitation Program
Let's face it; most treatments for pelvic health don't cut it or are non-existent.
Many medical providers focus solely on treating the symptoms, overlooking the root cause of the problem. While painkillers, injections, and surgery may have their place, they shouldn't be the default options or the only option.
At Back in Motion Physical Therapy & Performance, we believe in a holistic approach that goes beyond temporary fixes. We are proud to say that we offer a comprehensive and personalized approach to your pelvic health needs.
We understand that each patient's disorder is unique, and so is our treatment.
Our primary goal is to uncover the underlying reason behind your pelvic health disorder and address it effectively.
We steer away from simply masking the pain with medication or advising you to rest indefinitely or just to "deal" with it. We understand the complexity as well as the privacy about you and your condition.
Instead, we provide education, self-care strategies, and expert guidance to empower you in your journey to a pain-free and more virant life. Our mission is to help you find long-lasting relief and regain control of your health and well-being.
So, if you're tired of conventional treatments that fall short, join us on this path to help you "get back in motion".
Watch the quick video below to get a glimpse of what pelvic health is and how it can help you.
We offer our pelvic health treatment at our Cape Coral Physical Therapy Clinic and our Fort Myers office.
Let's work together toward a pain-free, worry-free, and a life worth living.
The Pelvic Floor Conditions We Treat