Wishful Thinking That Your Knee Will Heal On Its Own Is Not A Viable Game Plan!
Wishful Thinking That Your Knee Will Heal On Its Own Is Not A Viable Game Plan!
Knee Pain & Stiffness is ONE of the most common complaints we deal with in our practice.
And they will NOT simply vanish on their own. We hear from patients on a daily basis who have gone to their primary physicians for help, only to be told to take some painkillers and "see how it goes".
Instead of putting a proven neck pain treatment plan together, you start to believe your knee pain is just a part of your life you have to accept. Your new "normal"… STOP!
It may be time to come see us if you are experiencing any of the following knee pain signs or symptoms:
Loud "popping" sensation in the knee coupled with pain and instability
Swelling around the knee
Lack of stability when bearing weight on the affected leg
Warmth around the knee
Clicking or grating
Pain in and around the knee
Crackling/popping sounds when straightening the knee
Stiffness of the knee
Other Types of Knee Joint Pain Treatment
Other Types of Knee Pain Treatment
Treating knee pain without invasive surgery, injections, or medications is absolutely possible. There are a variety of treatment types we can help with – all designed to help you delay or avoid the extremely invasive and life-altering treatments outlined below:
Medication
Medication is the most common knee joint pain treatment. If the cause of the knee pain is the presence of an underlying disease, your doctor may prescribe medications to help relieve pain and treat that disease.
Drugs like paracetamol help to reduce the pain while Ibuprofen helps to reduce the swelling.
Medications treat symptoms, but rarely "cure" the underlying cause of your knee pain.  They can reduce your discomfort enough for physical therapy to become more effective. While we don't recommend solely treating knee pain with medications, they can be good to combine with your physical therapy regime.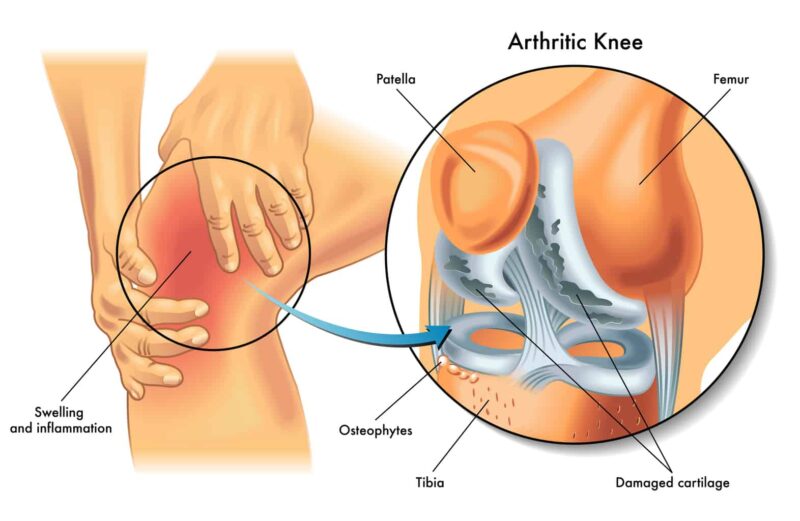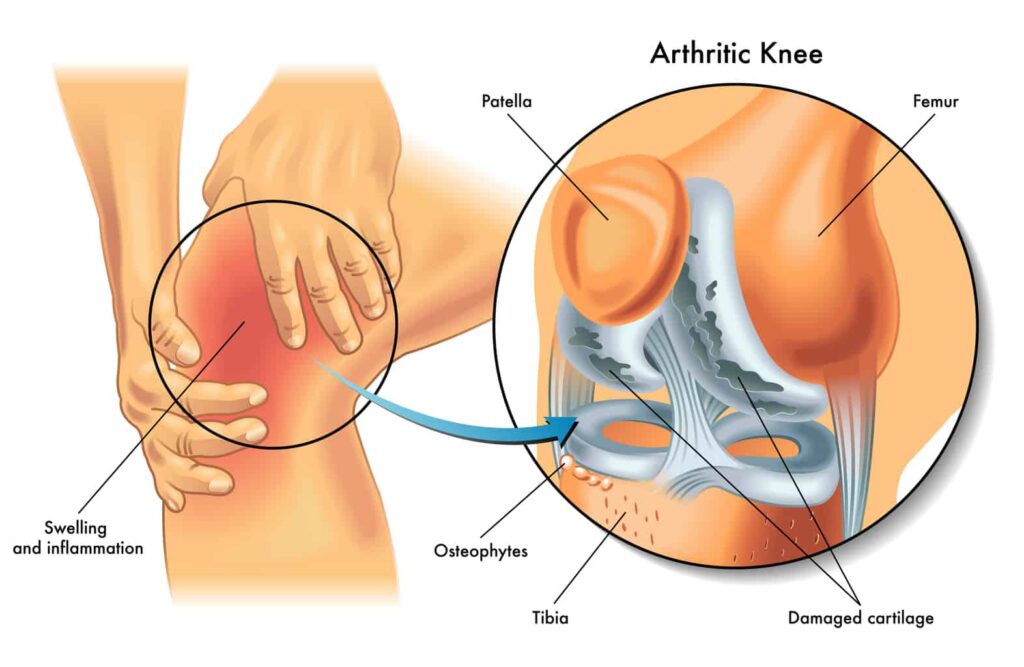 Injections
Injections are usually helpful when treating knee joint pain, especially when caused by cartilage tears. There are three types of injections used:
When injected into your knee joint, corticosteroid injections help to reduce swelling and provide pain relief that lasts a few months.
Hyaluronic acid: This is a thick fluid that helps to lubricate the knee joints when injected into your knee. It helps to improve mobility and ease the pain.
Platelet-rich plasma (PRP): This type of injection is made with different growth factors that help to reduce inflammation and promote healing. These types of injections are usually used to treat knee joint pain in children and people with mild arthritis.
Again, like prescribing medications – injections can support good physical therapy treatment to help improve mobility and reduce pain and inflammation.
Surgery
Surgery is usually done when the knee joint pain is persistent. Surgery should only be recommended when other treatment methods are not helping to reduce the pain. There are three types of surgery methods and they are:
Arthroscopic surgery: Arthroscopy is a knee surgery performed by making small incisions in the skin over the knee. Arthroscopy is used to remove loose bodies from your knee joint, remove or repair a torn meniscus, remove a baker's cyst, and to reconstruct torn ligaments and fractures.
Partial knee replacement surgery: This is a type of knee surgery where the damaged part of the knee is usually replaced with metal and plastic. It is faster to recover from this surgery than a total knee replacement.
Total knee replacement: This is the most common type of knee surgery. Knee replacement is an option when the damaged joint causes constant pain and cannot be treated by other treatment methods. Usually, the damaged bone and cartilage from your thighbone, shinbone, and kneecap is cut off, and replaced with an artificial joint made of metal alloys, plastics, and polymers.
In reality – physical therapy with a focus on natural knee joint pain relief is the best knee joint pain treatment – and the most amazing part is, that we likely won't focus solely on your knee.  Our work takes us into your back muscles and structure and to the front of your thighs. We'll evaluate your gait and the way you stand, walk and sit.  The best, longest-term healing for knee joint pain is a natural method led by expertly applied physical therapy by one of our experts here at Back In Motion.
What Can You Expect From Knee Pain Treatment Near You At Back In Motion…
What Can You Expect From Knee Pain Treatment Near You At Back In Motion…
Within just a few short sessions, we can remove your pain and stiffness
During your initial appointment, your physical therapist will guide you through a physical examination, testing, and questions related to your knee problems.
The testing such as muscular and range of motion tests will help your physical therapist make an accurate diagnosis and pinpoint the cause of your knee troubles.
Some of the most common knee conditions we treat include:
Knee arthritis
Knee Meniscus Tear
Knee Weakness
Ligament Strain or Partial Tearing of the Ligament
Patellofemoral Pain Syndrome (PFPS)/Runner's Knee
Knee Pain Conditions We Treat In Fort Myers
Knee Pain Conditions We Treat in Fort Myers
Fort Myers Knee Pain Patient Success Stories
Fort Myers Knee Pain Patient Success Stories
Our Approach to Treating Knee Pain in Fort Myers, FL
Our Approach to Treating Knee Pain in Fort Myers, FL
The Gray Method™ – An approach invented by our owner, Dr. Scott Gray. The premise behind everything focuses on pinpointing the original CAUSE of your injury, pain, or stiffness, rather than just addressing the symptoms.

Dry Needling– Dry needling is an advanced technique that uses very small needles to puncture the skin around stiff muscles. This treatment is a safe and effective way to eliminate pain, muscle tension, stiffness, and muscle spasms.

Massage/Myofascial Release- A hands-on technique that involves applying gentle sustained pressure and massage to the myofascial connective tissues. Your therapist will gently massage the myofascia and feel for stiff or tightened areas to eliminate pain and restore motion.
Taping- Physical therapists will know how to properly tape the muscles around your knee if your muscles are weak and unconditioned. Taping will help retrain the muscles around the knee to optimally function.

Patient Education- Sometimes, patients need proper education on how to squat, walk, and exercise properly, and which types of shoes they should and shouldn't wear. Physical therapists will share their knowledge to help patients recover sooner.

Functional Mobility & Strengthening- An approach that helps increase your overall mobility and strength to ensure your pain stays away long after rehab. Increased strength & mobility will help you heal your current pain or injury, prevent future injuries, improve your posture, prevent chronic diseases, and protect bone health.
Want Help to Decide if Our Knee Physical Therapy is Right For You?
Want Help to Decide if Physical Therapy is Right For You?
Treatment For Your Knee Pain Is Nearby & At Your Fingertips…
Treatment For Your Knee Pain Is Nearby & At Your Fingertips…
Remember, there's no need to stay in pain another day…
Let's discover the root cause of your knee pain and get you back in motion again!
Call our office at 2396105241 and schedule your appointment today!
We offer treatment for your knee pain in our Fort Myers, FL & our Cape Coral, FL offices.
PLEASE NOTE: You have no obligation after getting in contact with us.
Let's talk about your unique situation, your goals, and your obstacles.
Together we can chart a course for your active and healthy future doing the things you love to do!
Sounds reasonable?
We look forward to working with you soon!
Dedicated to your success,
Frequently Asked Questions About Knee Physical Therapy In Fort Myers
Frequently Asked Questions About Knee Physical Therapy in Fort Myers
Your physical therapist will use information from the initial questions and tests along with his or her observations to accurately detect the cause of your knee condition.
Often, knee conditions are not caused directly by injury in the knees themselves, but from issues in other parts of the body (such as poor mobility in the feet/ankles or weak muscles in the hips). This fact makes it tricky for non-physical therapists to diagnose and treat knee conditions.