What You Need to Know About Youth Sports Performance Training
Does your athlete have big dreams? Do they smile when they talk about reaching goals that they haven't reached yet?
You can help your athlete quickly reach those goals.
No matter how far fetched those dreams may sound to you, your athlete may know that there's potential within…it's just waiting to be unraveled.
If your athlete is driven and passionate about sport, why not help them discover their full potential?
The quickest and easiest way for your athlete to reach this potential is through sports performance training.
Today, we'll delve into the details of what sports performance training is and why it's the ultimate performance-booster for young athletes.
What is Youth Sports Performance Training?
Youth sports performance training is an exercise-based training program that helps your athlete achieve sports-related goals and avoid common sports injuries.
A perfectly balanced blend of strength and conditioning exercises with professional guidance is the reason why sports performance training is so effective.
Our NSCA certified trainers tailor the training to your athlete's age, current fitness level, and aspirations.
The training includes safe exercises that will help your athlete get stronger, fitter, and healthier. The injury-prevention benefits of sports performance training help your athlete stay in the game for the long-haul.
Our trainers help young athletes improve their technique, posture, speed, agility, and flexibility with carefully selected exercises.
You'll notice your athlete's performance and confidence grow within just a few weeks of training.
How Will Sports Performance Training Help My Athlete?
The amazing benefits of youth sports performance training is backed by years of scientific research.
Here are a few of the many ways that sports performance training will help your athlete:
It builds stronger bones, joints, and muscles

It improves cardiovascular fitness and endurance

It helps your child avoid sports-related injuries (like sprains, stress-fractures, etc.)

It promotes higher confidence and self-esteem

It fosters a healthy lifestyle

Why is My Athlete's Sports Coach Not Good Enough?
You might be asking "is sports performance training necessary if my child already has a sports coach?"
The answer is yes – sports performance training is absolutely essential if your athlete is serious about getting better in their sport.
While many coaches can coordinate a team and create standard practice plans, most of them are not experts when it comes to helping your athlete stay injury-free and reach their ultimate potential.
In fact, most coaches can NOT help with things like:
Determining an athlete's injury risk

Ensuring that exercises are done CORRECTLY

Designing a training program that is both SAFE and SUCCESSFUL

Educating your athlete on how to best prepare for a strong performance
Youth sports performance trainers SPECIALIZE in the above things that a coach can't do.
Our trainers in our youth sports performance training in Fort Myers clinic are not occupied with managing the team and coordinating event schedules….
Instead, we are occupied with helping your athlete safely get better in the sport they love the most!
That's why so many parents and coaches send athletes our way when they want to see major improvements.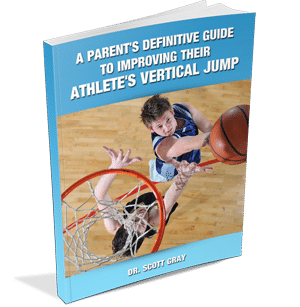 GET YOUR FREE REPORT
Free Special Report Reveals…. How to Increase Your Athlete's Vertical Jump
What is the Safety of Sports Performance Training?
A better question might be "what are the risks of NOT doing sports performance training?"…because there are plenty.
Some people picture their young athletes overworking themselves in sports performance training and getting hurt.
Nothing could be further than the truth!
Sports performance training HELPS young athletes AVOID INJURY.
If you've read about the benefits of this training, you'll know that it makes a young athlete stronger, more flexible, more coordinated, and therefore less prone to getting hurt.
Our trainers carefully monitor your athlete to ensure that the exercises are done correctly and that they are not too strenuous.
In fact, we have one of the only youth sports performance training facilities that is overseen by a Doctor of Physical therapy. You can't get any safer than that!
Any athlete of any age or sport can benefit from youth sports performance training.
We recommend that children start sports performance training as soon as middle school for healthy growth and strength during this transitional phase.
Through youth sports performance training, your athlete will learn the safest exercises and tips to improve their sports performance, as well as their overall health and fitness.
I Want My Athlete to Succeed. Where Do I Get Started?
Getting started is quick and easy…but the rewards are endless!
Our team of NSCA certified sports performance trainers at Back In Motion Physical Therapy & Performance will help you get started.
Sports performance training is one of the best gifts you can give your eager athlete.
Picture how excited your athlete is when he or she shares sports goals with you.
Now…let those dreams become reality!
Here's How We Can Work Together
Choose Which Option Works Best For You…
Option 1
Free Phone Consultation
If you're not quite ready to book an appointment yet, you might have some questions that you would like answered first. We would be happy to chat with you so we can be 100% sure that we can help you… just click the button below to request to speak to us on the phone!
Option 2
Inquire About Cost
We understand that some people want to find out a little more about the cost and appointment availability of our personal training and sports performance training programs before booking an appointment. If you want to know about our availability, then please just click the button below and complete the simple form.
Option 3
Free In-Person Consultation
We realize some people may be unsure if Back In Motion Physical Therapy & Performance is right for them. Are you wondering if it'll work or if we can help with your problem? If that sounds like you and you'd like to sit down with one of our team members to see for yourself how we can help you, just fill out the simple form below so we can answer your questions.