Sprinting Mechanics For Athletes
Hi, everyone, this is Dr. James Porco with Back In Motion in Fort Myers, FL. In this article, we're going to be talking about sprinting mechanics for athletes.
90/90 Angle
When we want to get our athletes stronger, faster, and more explosive, obviously, we're going to be doing things such as Olympic lifting, plyometric drills.
But one of the things that often gets overlooked or undervalued is actually what we do with the upper body when we're talking about sprinting. And today, we're gonna be talking about the arm swing and the upper body posture during a sprint.
One of the things we want to be making sure of is that we have what we call a 90/90 angle at our, upper body. So what we're gonna be looking for is about a 90-degree angle at the elbow.
When we're swinging the arms we're running through about a 90-degree angle between the shoulders. We're also looking for a relaxed head and relaxed shoulders. And then, a forward trunk angle when we're actually sprinting.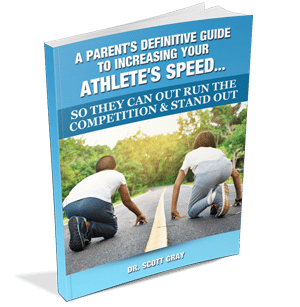 GET YOUR FREE REPORT
Free Special Report Reveals…. How to Increase Your Athlete's Speed
Speed Training Exercise
A drill that we actually use to work on this with our athletes is having the athlete sit on the ground with their feet extended straight in front of them in what we call a long sitting position.
Now, from this position, we have the athlete lift their arms up in that sprinting 90/90 angle and have them with an upright chest, relaxed head. I'm going to have them pump those arms as fast as he can in a sprinting mechanic.
Watch the video at the beginning of the article to see what this exercise looks like.
What we're looking for is any popping off the ground. That's how much momentum they are generating from the torso and the upper body.
So what we do is we can break this up into blocks, and when he starts losing his mechanics we can take a break and then reset. We're really looking for proper posture and alignment here.
I Want My Athlete To Succeed. Where Do I Get Started?
Getting started is quick and easy…but the rewards are endless!
Our team of NSCA certified speed & agility trainers at Back In Motion Physical Therapy & Performance will help you get started.
Speed training is one of the best gifts you can give your eager athlete.
Picture how excited your athlete is when they share sports goals with you & obtain that college scholarship to their dream school!
Now…let those dreams become reality!
Here's How We Can Work Together
Choose Which Option Works Best For You…
Option 1
Free Phone Consultation
If you're not quite ready to book an appointment yet, you might have some questions that you would like answered first. We would be happy to chat with you so we can be 100% sure that we can help you… just click the button below to request to speak to us on the phone!
Option 2
Inquire About Cost
We understand that some people want to find out a little more about the cost and appointment availability of our personal training and sports performance training programs before booking an appointment. If you want to know about our availability, then please just click the button below and complete the simple form.
Option 3
Free In-Person Consultation
We realize some people may be unsure if Back In Motion Physical Therapy & Performance is right for them. Are you wondering if it'll work or if we can help with your problem? If that sounds like you and you'd like to sit down with one of our team members to see for yourself how we can help you, just fill out the simple form below so we can answer your questions.