How a Doctor of Physical Therapy Can Help You Overcome Your Pain, Stiffness, & Injuries Without Surgery, Injections, or Risky Treatment
Being in pain and looking for answers without risky surgery or being reliant medications can be a frustrating experience.
The good news is that it doesn't have to be this way and you're not alone.
Continue to read below and discover how seeing a Doctor of Physical Therapy may be the solution you've been loooking for to getting back to your activelifestyle without risky surgery or being addicted to painkillers.
The Conditions a Doctor of Physical Treats
A Doctor of Physical Therapy is like a medical doctor in that they specialize and treat an array of disorders.
The majorty of conditions that they treat is neuromuskuloskeletal.
This means if you have stiffness, muscle pain, joint pain, or a something affecting your daily function, chances are you'll want to start be seeing a physical therapist
Below are just some of the most common things a Doctor of Physical sees and treats:
Lower Back Pain & Sciatica
Neck Pain & Stiffnes
Gait & Balance Disorders
Orthopedic & Sport Injuries
Pelvic Floor Health
Vertigo
The Treatments a Doctor of Physical Therapy Offers:
Massage & Myofascial Release:
Are your muscles tight? Adhered? Do you have myofascial pain? You may benefit from myofascial release.
Manipulation:
Spinal and extremity manipulation is a form of treatment used to reduce pain and increase range of motion. Whether it is cracking your back, your neck, or an ankle joint that is stiff, manipulation works.
Gait Training:
Do you have a gait that is not functioning right? A physical therapist can help retrain the way you walk so you can walk more effectively and efficiently.
Balance Training:
Balance training involves retraining your proprioceptive, vestibular, and eye systems so you don't fall.
Strength Training & Exercise:
Strength training is a great way to prevent an injury but also heal from an injury. The stronger your muscles, ligaments, and tendons are, the less likely you're to hurting yourself. A great physical therapist can prescribe the right exercises for you.
Patient Education:
Do you have back pain when bending, lifting, or twisting? Shoulder problems when reaching overhead? You may need education on how to do it properly so you don't continue to injure yourself.
Spinal Traction:
Spinal decompression or traction is a great treatment to help reduce pressure on your nerves or to reduce spinal arthritis.
Want to See How We Can Help You?
Claim A Free 20 Minute Discovery Visit….
What You Can Expect When You See a Doctor of Physical Therapy:
A Thorough Evaluation
When seeing a physical therapist, you can expect an evaluation to discern your strength, flexibility, and what you need to do to enhance your function.
Specific Treatment For Your Condition
A physical therapist or physical therapy clinic can help provide the right treatments to help you get back in motion, improve your range of motion, strength, etc. They use an array of treatments.
Detecting the Root Cause of Your Injury
Not only can a physical therapist help you recover from your injury, but the best ones can detect why your injury happened in the first place. So if you're suffering with back pain, they'll not only get rid of your symptoms but show you how to never deal with it again.
What To Look For In A Great Physical Therapist or Physical Therapy Clinic?
Although the majority of physical therapists are great, you'll want to discern and visit a clinic or physical therapist that can provide superior treatment and care specific to you and your condition. Below are a few examples of some things to look for in a physical therapist and physical therapy clinic:
Not Hospital Owned
Although hospitals are essential to our communities, the physical therapists in the hospital setting are mainly generalists instead of specialists. This means if you have back pain, knee stiffness, or a rotator cuff injury, they'll have somewhat of an idea on how to help you but won't be able to provide the full value you're looking or need. Be sure to look for a physical therapy clinic that is privately owned. This is where you can usually find the best physical therapists.
Not A Franchise
Most franchise owned physical therapy clinics hire rehab technicians and assistants to provide treatment. This means you won't get the care that you need in most cases. Be sure to ask if the physical therapy clinic you're inquiring about is a franchise, you won't regret it.
Advanced Training
Another common thing you can do to find a great physical therapist near you is to look at their qualifications, experience, and certifications. For instance, are they manual therapy certified? Fellowship trained? Do they have their own method of treatment?
Have A Niche
It's impossible to know everything about a given area of the body. For this reason, be sure you're seeing someone that specializes in a given area. For instance, if you have back pain, be sure to see someone that specializes in spine disorders. If you've had a knee replacement, see someone that specializes in orthopedics.
One-On-One Care
Does your physical therapist treat one patient at a time? Or are they seeing 3 to 4 patients at a time? This is something you should ask immediately before booking an appointment. This is important because it you'll want to see a physical therapist that can provide one-on-one care.
What Is the Education of A Physical Therapist?  
Becoming a physical therapist is no easy task. Physical therapists are now mandated to have a Doctor of Physical Therapy (DPT) degree in the United States. In addition to the rigour of becoming a Doctor of Physical Therapy, most physical therapists have gone through a residency or fellowship program.
Do You Need A Referral From A Physician?
No. Physical therapists no longer need a physician referral to see any patient in the state of Florida. You can call them and book an appointment directly.
Cost Of Physical Therapy?
Most insurances cover the costs of physical therapy. However, you may need to pay a small fee to see a great physical therapist. A physical therapist can save you time and money by preventing unwarranted doctor visits and surgery you may not need .
How to Get Started Seeing A Physical Therapist or Physical Therapy Clinic?
If you're ready to see a physical therapist and book an appointment all you need to do is click here and fill out a simple form.
You can also claim our free and special guide on 39 of the Most Common Questions of Physical Therapy Answered Truthfully. In this free guide, you'll learn:
What's the difference between physical therapy and chiropractic
What you should wear to your visits
The 5 top questions you should be asking your physical therapist
Plus, much, much, more.
Concluding Remarks On How A Physical Therapist Can Help You
A physical therapist treats an array of muscle and skeletal conditions.
Seeing a great physical therapist is the first step to getting back to your active lifestyle without surgery, resting, or taking painkillers.
Whether you're suffering from back pain, sciatica, neck stiffness, or having any other pain or stiffness, a physical therapist usually can help.
You have options and physical therapy can help you get back in motion.
Call our office at 239-223-0484 and schedule your appointment today!
We offer Physical Therapy in Fort Myers, FL, and Physical Therapy in Cape Coral, FL.
But Are All Physical Therapists Created Equally?
Although seeing a Doctor of Physical Therapy is a great first-step to getting back to your active lifestyle and getting to the root cause of your pain, stiffness, or injuries, not all Doctors of Physical Therapy are created equally.
Just like there are good and great doctors, attorney's, and etc. The same is true about physical therapists.
Below are just a few things to consider when selecting your Doctor of Physical Therapy.
Do They Specialize?
Certifications or Advanced Training?
Do They Have Their Own Treatment Approach?
Do They Address the Root Cause or Treat Symptoms?
Do You Get Customized Care?
Do They Use Physical Therapy Assistants?
Check out our Cape Coral PT clinic and Fort Myers PT clinic for some the leading physical therapist in SWFL.
Why You Should Choose Back In Motion Physical Therapy
#1 Only See a Doctor of Physical Therapy
#2 Customized Treatments
#3 Get to the Root Cause of Your Pain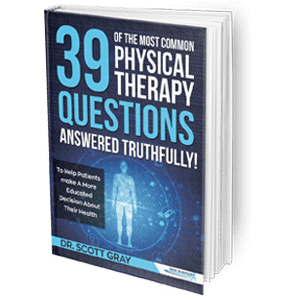 GET YOUR FREE REPORT
39 of the most common Physical Therapy questions answered truthfully