Fitness For Women Over 50
Fitness for women over 50. From old To BOLD!
Hi! My name is Ashley Gray and I'm the owner of Back In Motion Physical Therapy & Performance here in Fort Myers.
Did you know…
Only 39% of all exercise and sports medicine research features women.
A fraction of that features women in peri-menopause, menopause, and beyond.
As women get older, it is only natural for them to worry about their health and wonder if they should be working out, despite the extra back cramp and the clicky knee.
Fact is, fitness for women over 50 comes with several challenges but with even MORE rewards!
Fitness Tips For Every Women Over 50
It's common knowledge that exercise is good for us, but it can be challenging to find the proper routine that works and stick to it.
Physicians often prescribe a specific fitness regimen that works best for each individual rather than forcing yourself to do what a celebrity or a blog post might say. Those could be routines for a completely different fitness level and age group.
Generally, the ideal form of exercise for anyone is something you do. A person can derive many health benefits from just 150 minutes of moderate exercise or 75 minutes of high-intensity exercise per week. It might be a good idea to check in with a physician if you're just starting out.
If you're under the impression that you should slow down as your senior years approach, here are a few good reasons for you to rethink why you should look into fitness for women over 50.
1) Work Smarter Not Harder
A routine that involves simple exercises and combines moderate and high-density workouts are more than enough! You don't need to set aside three hours a day and go vegan or turn into some fitness freak. Your routine could consist of jumping rope, climbing stairs, a good run, racquetball, or aerobic exercises.
2) Make It Fun!
As you get older, your body takes longer and longer to build muscle and burn off the fat. You might have already experienced this shift. While you could help your body out with a change in your diet, a workout can often be a lot more fun!
3) No Shortcuts!
A good routine that works well for you will help you build endurance, strength, and flexibility. As you grow older, it not only becomes more and more interesting, it also becomes increasingly popular. Younger people can get away with skipping a couple of days of training. But when you're over 50, you need to maintain a routine to stay strong.
4) Injury Prevention
Several hazardous injuries can be avoided if you work out regularly. Studies indicate that after the age of 20, adults lose between 5 and 7 pounds of muscle every decade. This is mainly due to inactivity that comes due to age. Resistance exercise works excellent to reverse this by increasing the size of skeletal muscle fibers. Bone mass and density increase with strength training and diseases like osteoporosis, where bones become more fragile and more likely to break.  If you are hurt, getting help from a physical therapist in Cape Coral or Fort Myers who understands exercise and injury recovery can help – that's us!
5) Stretching Is No Longer Optional
It may not seem like it, but stretching could be an essential part of your fitness session if you're over 50 and recovering from an intense workout session from the previous day. Stretching keeps your body flexible and limber.
6) Treat Yourself!
Treat yourself! When it comes to fitness for women over 50, a soothing massage or some form of bodywork can do wonders when you're into fitness over the age of 50. You definitely deserve a little pampering, and your body needs some rest days. As people age, soft tissue hardens.
7) Reduce and Improve Anxiety
A good workout can greatly improve your mood and anxiety. Exercise also releases chemicals that improve mood and sleep and reduce anxiety. A great workout can also reduce the odds of developing heart disease, stroke, and diabetes. People are increasingly more prone to these as they get older. Exercise can help combat the stress that comes with aging. Not only do you look younger, but you also feel younger. Especially for women going through menopause or other life-changing events, this is especially important and helpful.
8) Improve Memory Retention
Working out can also be a great way to up your memory retention as you get older. The proper routine can really do wonders for your mind and boost cognitive repair. Studies have found that weekly aerobic exercise can increase the size of the brain area that is involved in learning and verbal memory. More importantly, heart-pumping activities pump more blood into our brains and stimulate new growth.
Forget about the MYTHS you've heard about aging…
To really fully reap the full benefits of exercise, women need to have a routine that works and is 100% customized for them.
We understand this overlooked reality in the health and fitness industry….
That's why I created Back In Motion.
Forget about the MYTHS you've heard about aging…
It's those aging myths that STOP so many women from feeling inspired about their body and physical well-being.
How would you like to age gracefully, gain back your confidence, and FINALLY achieve your health & fitness goals so you can look and feel 20 again, even if you've never worked out a day in your life?
As we move into our 50's, 60's, and 70's we know we need to stay active to keep our mobility, health, and youth….
But the problem is most trainers or gym workouts are risky or unsafe and don't really understand the difference between training a 20-year-old and someone who is aged 50+.
As a result, we end up not enjoying working out, getting hurt, and not seeing results!
You start to think that your limitations are just a part of aging and you start to believe that exercise is no longer appropriate.
This is not TRUE!
In fact, it's the opposite. The majority of physical decline as you age is due to the lack of exercise.
We understand this overlooked reality in the fitness industry and that's why I created Back In Motion Physical Therapy & Performance.
With Back In Motion, you will get tailored, structured, and time-efficient programs explicitly designed for women over 50.
These are unique, proven approaches that are 100% safe and backed by science. It ditches the thousands of food rules, fad diets, and conflicting advice available on the internet.
But don't wait!
Space for our fitness for women over 50 personal training programs is extremely limited so click here to speak to one of our coaches today to see if we can help you!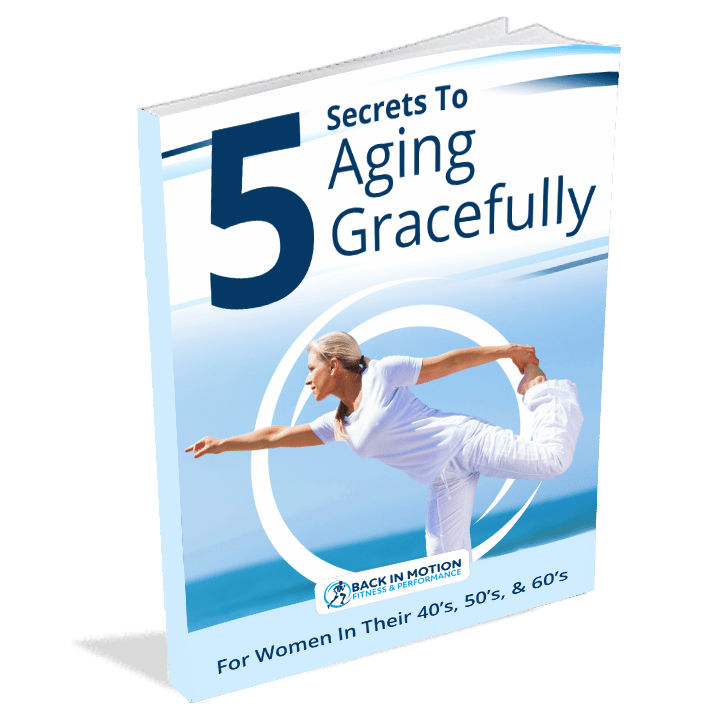 Download Your Free Guide
Free Report Reveals….5 Secrets To Aging Gracefully For Women In Their 50's, 60's, & 70's