5 Things to Ask A Personal Trainer Before Hiring Them
You're making an important first step towards improving your health and fitness, so finding the best personal trainer for your goals is essential.
To people who want to find a great personal trainer but don't know where to start, our personal training fort myers team is here to help you narrow down your search.
If you don't ask the right questions before hiring a personal trainer, you could end up wasting time and money on a failed program…which is a major motivation-killer for anyone.
So, how about you set yourself up for success?
Asking a personal trainer these 5 questions before hiring them is like a personal guarantee that the program will pay off:
#1: What Education and Certifications do You Have?
This first question is a quick way you can eliminate all of the uncertified personal trainers off your list (there are many who have ZERO qualifications).
You don't just want a trainer who looks fit – you want to make sure that they know how to help others get fitter, as well.
Verify that the personal trainer has some training and education related to personal training. If not, go elsewhere…this personal trainer doesn't know the safest and most successful ways to help others reach their goals.
If they can show you proof of a personal training certification with other certifications in areas related to your goals (for example, fitness, sports training, weight loss, or strength and conditioning), this is a great sign that the personal trainer is qualified to help you succeed.
#2: What's Your Coaching Style
Some people work best with a personal trainer who barks orders at them, acting like a drill sergeant…perhaps instilling that little bit of intimidation needed to power through the workout and conquer goals.
Others just need a friendly supporter…a trainer who will gently guide you and provide you with kind words of encouragement along the way.
Think about what kind of leadership works best for you when you set out to achieve something. Then, ask the trainer what their coaching style is to see if it's a good fit.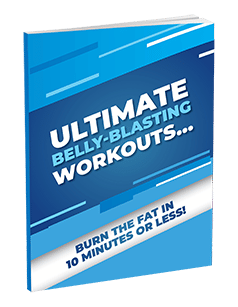 GET YOUR FREE REPORT
Free Special Report Reveals….5 Belly-Blasting Workouts to Burn Fast In 10 Minutes or Less
There are many different coaching styles out there – from extreme to in-between.
You may find that one personal training clinic may have a few personal trainers with drastically different coaching styles. So, if you find what you believe is a good training clinic, ask about the training personalities of each personal trainer.
#3: Have You Helped Other Clients Achieve My Goal?
If you want the most "bang for your buck," you'll want to hire a trainer who has helped at least one other person reach the same goal as you.
Looking at the personal trainer's patient testimonials is another great way to learn about who they helped and how they helped them.
Ask to see client testimonials, hear their stories, or even get in touch with a previous client who reached the same goal that you wish to reach through personal training.
Even if the personal trainer that you're considering doesn't have experience helping others who shared your goal, they might be able to connect you with another personal trainer who does have this experience.
#4: How Can You Prove that Your Program is Safe?
Safety should remain top priority for any personal trainer designing a program…so how can they prove that their program is safe?
Personal training should make you stronger and less susceptible to activity-related injuries or pain, not MORE susceptible.
One of the best ways to manage or prevent common injuries or conditions (like lower back pain, arthritis, or knee pain, to name a few) is to get involved in a safe personal training program.
Your personal trainer should be able to discuss their safety education and background.
Knowing how to perform exercises correctly and fix your technique or posture is key to steady progression and a lifetime of good health.
If the personal trainer doesn't seem to have any background in personal training safety measures, this is a clear sign not to hire them.
#5: Do You Offer a Free Consultation?
Before "sealing the deal," why not take advantage of a free consultation?
You can discuss your goals in much greater depth during the consultation and get a better idea if the program is right for you.
It's a positive sign when a personal training clinic offers a free consultation because it means that they are confident in their program and excited to share all of the details with you.
Plus, you can get a better idea of the personal trainer's personality through a consultation.
Are they listening to your goals? Are they giving you an idea of what your personal training plan might look like to help you meet those goals? Do they seem truly interested in helping you?
If that's a yes, yes, and yes…you've got yourself a winner!
Imagine Reaching Your Fitness Goals & Loving Every Minute of It
Are you ready to conquer your fitness goals? Our expert personal trainers at Back In Motion Physical Therapy & Performance in Fort, Myers, Florida, can help you reach these goals in a fun, supportive environment.
Our clients are amazed at how quickly they achieve their fitness goals (just check out our testimonials!).
All of our personal trainers are professionally certified with extensive backgrounds in personal training and other fitness-related specialties such as weight loss and sports performance.
Our trainers stay up to date with the most effective exercises, nutrition advice, and safety protocols. A Doctor of Physical Therapy oversees the personal training program, making it one of the safest programs out there!
We love helping our clients achieve their unique fitness goals, and we look forward to helping you achieve yours, too.
Want to See If We Can Help You With Your Weight Loss?
Let's see if we can help you. contact our office today by choosing which option works best for you.
---
Choose Which Option Works Best For You….
Option 1:
Option 2:
Option 3: