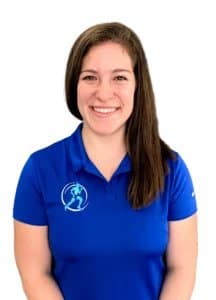 Dr. Devyn
(PT, DPT, Board-Certified Clinical Specialist in Women's Health Physical Therapy)
I am Dr. Devyn, a pelvic health physical therapist who is beyond passionate about the work that I do. Not only am I a mother, but I'm also someone who has dealt with the impacts of a tailbone injury for the majority of my life. Between managing pain with sex and difficulty pooping, I know the importance of quality pelvic health care.
Navigating our own health, especially when dealing with pelvic pain and discrete issues is not only difficult because they are hidden symptoms, but because there are a lot of medical providers who don't listen. We often have been dismissed or have even invalidated ourselves because of our symptoms. Not only am I here to help address your symptoms and improve your quality of life, but I'm also here to be your advocate.
My passion for pelvic health derives from my passion for sexual freedom and sexual health. It also includes my passion for women and mothers. Although I've been a licensed physical therapist since graduating from grad school, I've been studying sexual and pelvic health since I was in my teens. With such passion and experience in the field, there's no subject too uncomfortable or too inappropriate for me. Talking about peeing, pooping, orgasming, and giving birth is part of my everyday life. You may feel alone because your symptoms are so private, but I am here to provide a space where you feel comfortable sharing intimate details about your life and getting back to being you.
---
Dr. Devyn is from Connecticut and earned her Bachelor's in Health Science (2016) from the University of Hartford. She earned her Doctorate in Physical Therapy (2019) from the University of Hartford as well. She is WCS candidate completing her examination in early 2022 to become specialized in pelvic health.
Dr. Devyn became passionate about Physical Therapy early in high school and never gave up on the pursuit of this dream profession. Early in her physical therapy adventure, she found special interest and talent in Pelvic Health Physical Therapy. She is eager to help patients with any pelvic health concern of any demographic. She offers treatment at our Cape Coral, FL physical therapy clinic.
Outside of the clinic, Devyn enjoys spending time driving her Jeep, being active at the trampoline park, and being with her dog and daughter!
Conditions Dr. Devyn Specializes In:
Constipation
Back & Hip Pain
Favorites:
Place: Anywhere with her mom
Food: Salmon
Vacation Spot: Traveling with the Jeep and dog
TV Show: Law & Order SVU
Film: Tangled
Guilty Pleasure Song: I Wanna Dance With Somebody – Whitney Houston
Celebrity: Iskra Lawrence
Book: The Book of Awakening
Sport: Football
Team: Red Sox
Hobbies: Cleaning the house & stretching
Are You Ready to Get Back in Motion?
Here's How Most People Start Their Journey Towards Getting Back in Motion